Lameness brings out many emotions, including fear and frustration, particularly when its cause is a mystery and the horse doesn't heal. Those are just some of the emotions that Barb Robinson, an avid trail rider from Aston, Penn., felt when her partner, an 18-year-old Icelandic gelding named Ari, went mysteriously lame.Ari was performing well in the months leading up to his lameness. Uncertain but considering possible causes, Robinson relayed that she had taken him on a 10-day trail riding trip to Hocking Hills, Ohio. When she arrived, she found the conditions less than ideal. "It was a deep, slogging mud," she says. "But he came out fine."
She rode Ari all summer and fall without issue, even taking part in the League of Maryland Horsemen's Fall Roundup in November 2019. "His gaiting was awesome!" she adds.Get Our Free Weekly Enewsletter About Horses
After the Roundup, she began to notice small changes. "He started resting his left hind leg [while in crossties] here and there," says Robinson. "He never did that before. He used to always stand square."
He was also laying down more than usual. Still, she was able to continue riding without issue, including the day after Christmas with a friend. It was on this ride that she noticed that Ari felt a little off while she was posting. Then, bringing him in from the pasture the next day, he was off at the walk and on turns while being led. Robinson called her veterinarian out to investigate.
"I was convinced it was the left hind," Robinson says. "He flexed positive in the left stifle and the hock."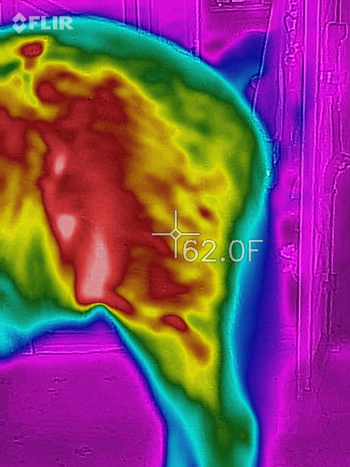 Ari was placed on a COX-2 inhibitor for several weeks, and Robinson stopped riding, but unfortunately she didn't see any improvement. Her next step was to have an osteopath visit. "The osteopath felt the right stifle was sticky," she continues. " She got it working properly."
The osteopath also gave her the green light to start riding again. "But when I rode him, he really didn't want to put weight on the left hind."
Because of its prevalence it was at this stage that she had her veterinarian also test for Lyme disease. It was negative. By this time, Ari was exhibiting a level five lameness on the American Association of Equine Practitioners' scale, meaning that he was minimally weight-bearing whether in motion or at rest. At her wits end, Robinson began appealing to others for help.
Healing Hands for a Mystery Lameness
"One of our associates reached out to me about a fellow Icelandic Horse owner having trouble with a mystery lameness," said Heather Wallace, ESMT, CCMT, an equine and canine sports massage therapist.