Looking for a polework exercise to really get your horse thinking? Check out this exciting layout – its benefits definitely outweigh the set-up time
Our expert
Elizabeth Allen BHSI UKCC3 is part of the Bristol-based Collective Equestrian team. She's a BHS, Pony Club and BD accredited trainer, and has competed internationally at Under 25 Grand Prix and at the World Young Horse Championships.
Our model
Olivia Robertson rides 17-year-old Don Dellero (Lexi),Elizabeth Allen's Hanoverian gelding, who has successfully competed at Advanced level dressage.
A super-sociable exercise that offers something for everyone, a demanding set-up that keeps your horse focused, or even a bit of fun to shake up a stale schooling regime – whatever you're after, this versatile polework exercise has you covered. So, if you want an all-purpose plan that ticks all the right boxes, this is the one for you. Let's take a look at how to do it.
Set Up Your Pole Layout
You'll need plenty of time and man-power to set this one up but, we assure you, the benefits are numerous! You'll need…
20 3m trot poles
four 3.5m trot poles
four pole pods or blocks
Start building from the centre outwards, with the box over X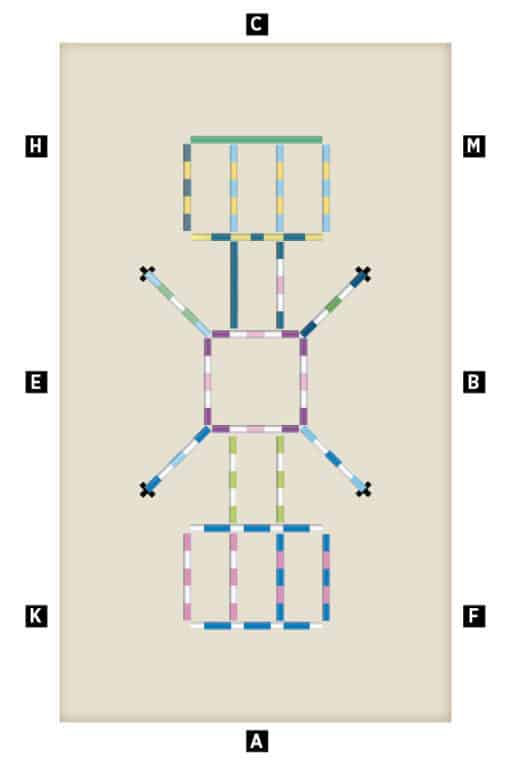 Top tip The 3.5m poles should be used on the first and third boxes to make rectangles. However, if you don't have any longer length poles, you can just leave a small gap at each end of a 3m pole.
Pole Work Exercise 1: Through The Middle
How to ride it… Take your horse onto a figure-of-eight in trot, using the square box of poles as the centre of your shape.
Mix it up… Add canter into the exercise. If your horse jumps, or has established flying changes, this exercise offers him two opportunities to get the correct change over the poles.
If your horse isn't confident changing lead over the poles, test his suppleness by adapting the exercise and staying on a circle in canter but changing the rein in trot when you're ready. By doing it on both reins, you can test that your horse offers the same degree of bend both ways.
Good for… warming up and improving suppleness.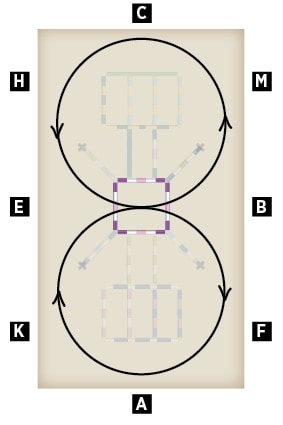 Pole Work Exercise 2: Down The Centre
How to ride it… Ride down the centre line in an active trot. When you're happy that he's maintaining a good rhythm, add in some transitions. For example, trot between the first set of poles, transition to walk between the next, halt in the centre, then go back up to walk and trot between the next sets of poles.